Very often, we will receive emails from various customers asking for
1- Krauss Maffei. KMD 114-32 parallel screws
2- Cincinnati Extrusion. CMT 68. Conical screws
3- Cincinnati Extrusion CMT 58 Conical screws
If you need answers, contact EJS at sales@ejschina.com, thank you.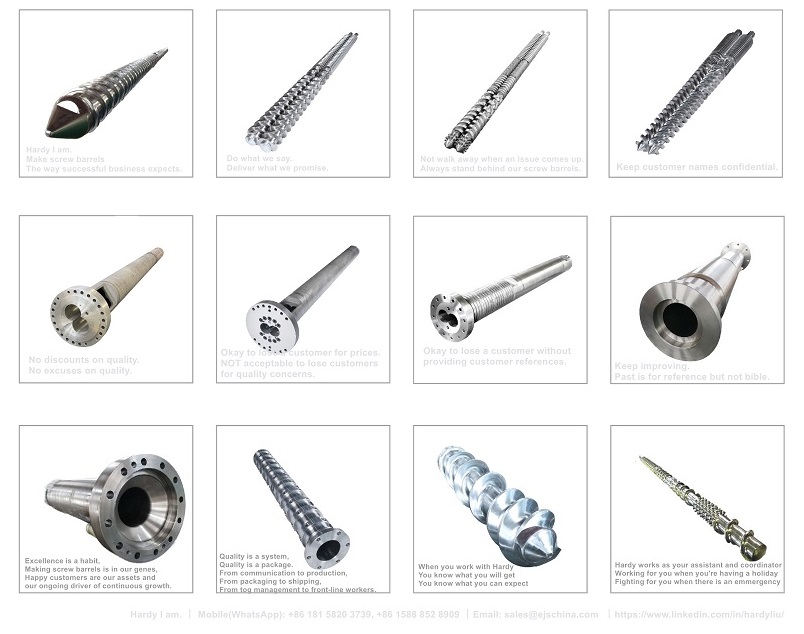 To know more about EJS, please continue:

WHO is EJS?
Factory located in Jintang Island, Zhoushan;

Export office in downtown Ningbo;  

Established in 1992;

Up to 40000m2 production area;

More than 420 skilled workers;

Over 300 equipment, domestic and imported, semi-automatic or fully automatic;

10 experienced full-time technical engineers;   

6 Export Sales with fluent English to offer you an easier way for business.

Who does EJS work with?
We offer screws and barrels for all types of polymers and other specialist materials used across a wide range of industry sectors such as:
PVC - Building, Civils and Sheet

Flexible and Rigid Pipe Profile and Tube

Wire and Cable – Insulation and sheathing

Rubber Profile, Hose, Tyre and Preform

Silicone Micro Bore Tubing, Tube and Profile

Plastics Compounding – Single and Twin Screw

Blown Film

Injection Moulding

Blow Moulding

Reprocessing and Recycle Plastics

Chemical and Pharmaceutical

Food and Agricultural

What Do We Produce?

Single Screws
Twin Conical Screws
Twin Parallel Screws

Single Barrels
Twin Conical Barrels
Twin Parallel Barrels
 
KraussMaffei
 is a German manufacturer of injection molding machines, machines for plastics extrusion technology, and reaction process machinery. It was acquired by 
ChemChina
 in 2016.
Many customers are using Krauss Maffei machines, we are happy to produce some screw barrels to work with their extruders, including single-screw extruder and twin-screw extruder, for example:
Foam extrusion lines
Compounding plants
Melt-fed single-screw extruders
Pipe extrusion
Profile extrusion
Tire lines
Twin-screw extruder
single-screw extruder
sheet extrusion line
Co-extrusion technology
Conical extruders
Counter-rotating twin-screw extruders
Flexible sheet extrusion lines
Foam board lines
Foam sheet lines
hot-feed extruders
Silicon profile manufacturing lines
belt systems+++++
Battenfeld-Cincinnati:
a technology leader in the extrusion industry, the battenfeld-cincinnati Group offers you solutions for a wide range of applications – as standard, and in the form of individual, customized solutions. Established in the 1940s, we are one of the oldest companies in our sector, and the only one specializing exclusively in extrusion.
Being a supplier of Battenfeld-Cincinnati is surely great. Producing screw barrels for Battenfeld-Cincinnati extruders are also gorgeous!
Battenfeld-Cincinnati extruders are widely used for extrusion of 
pipe, profile,  sheet and board,  film and sheet and pelletizing with material of PO or PVC or others.

As a screw barrel producer from 1990s, we have been working with many various customers from different countries from west to east, northern Russia to southern Peru. 
Some customers use big brand names, such as Battenfeld Cincinnati, Krauss Maffei. When end users don't drawings, we are able to send our engineers over to do on-site measurement.

If you are looking for a screw barrel supplier in China, do talk to EJS, our screw barrels are shipped to Europe and America, with many happy customers and repeat orders.
Our customers are growing fast these years, EJS natually is also growing.