EJS has been producing screw barrels for over 28 years, many customers have been importing from us for many years.
However for new customers, they might be some hesitations.
Take a look at how screw barrels are made at our factory day in and day out. Contact us if there's anything unclear.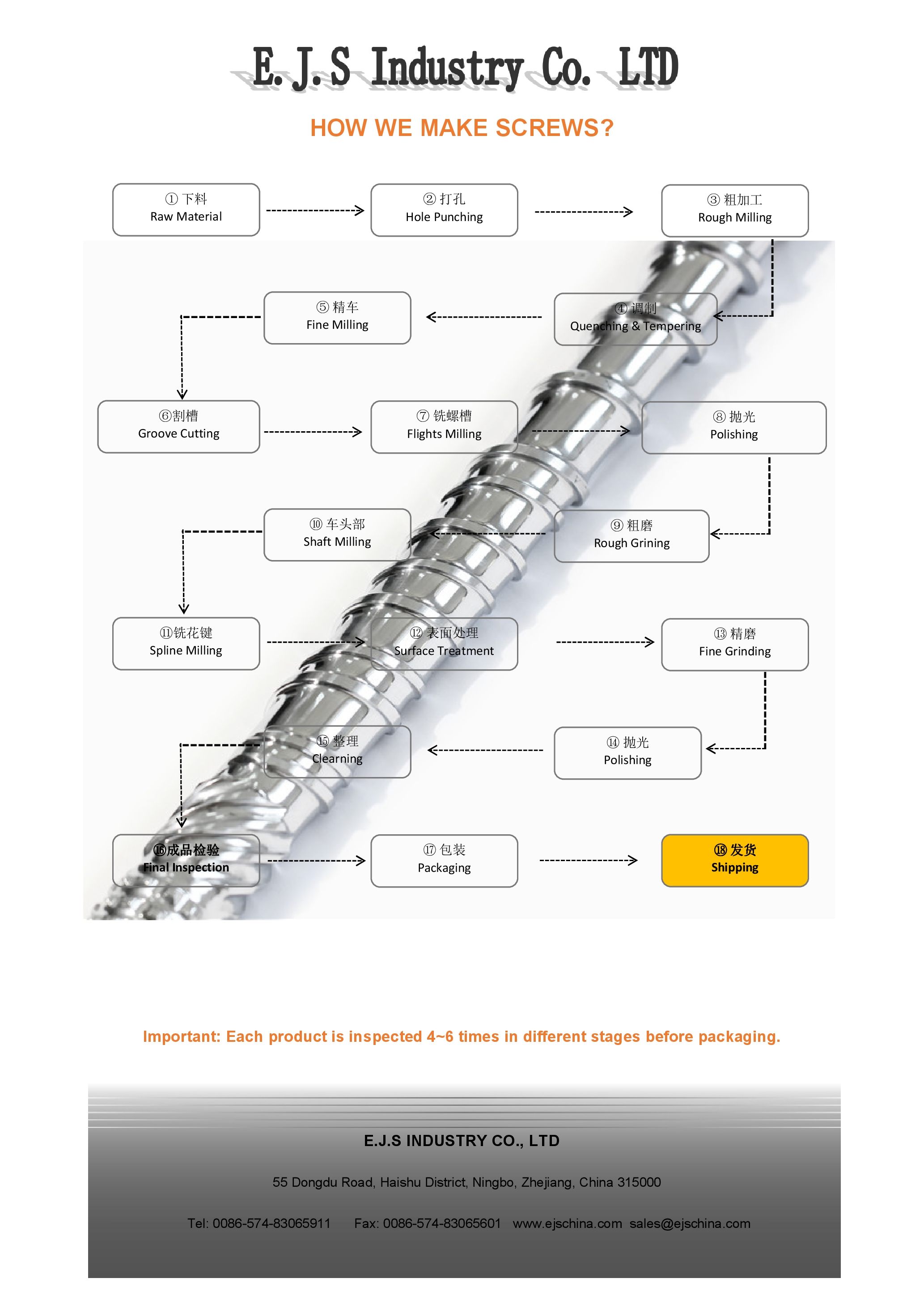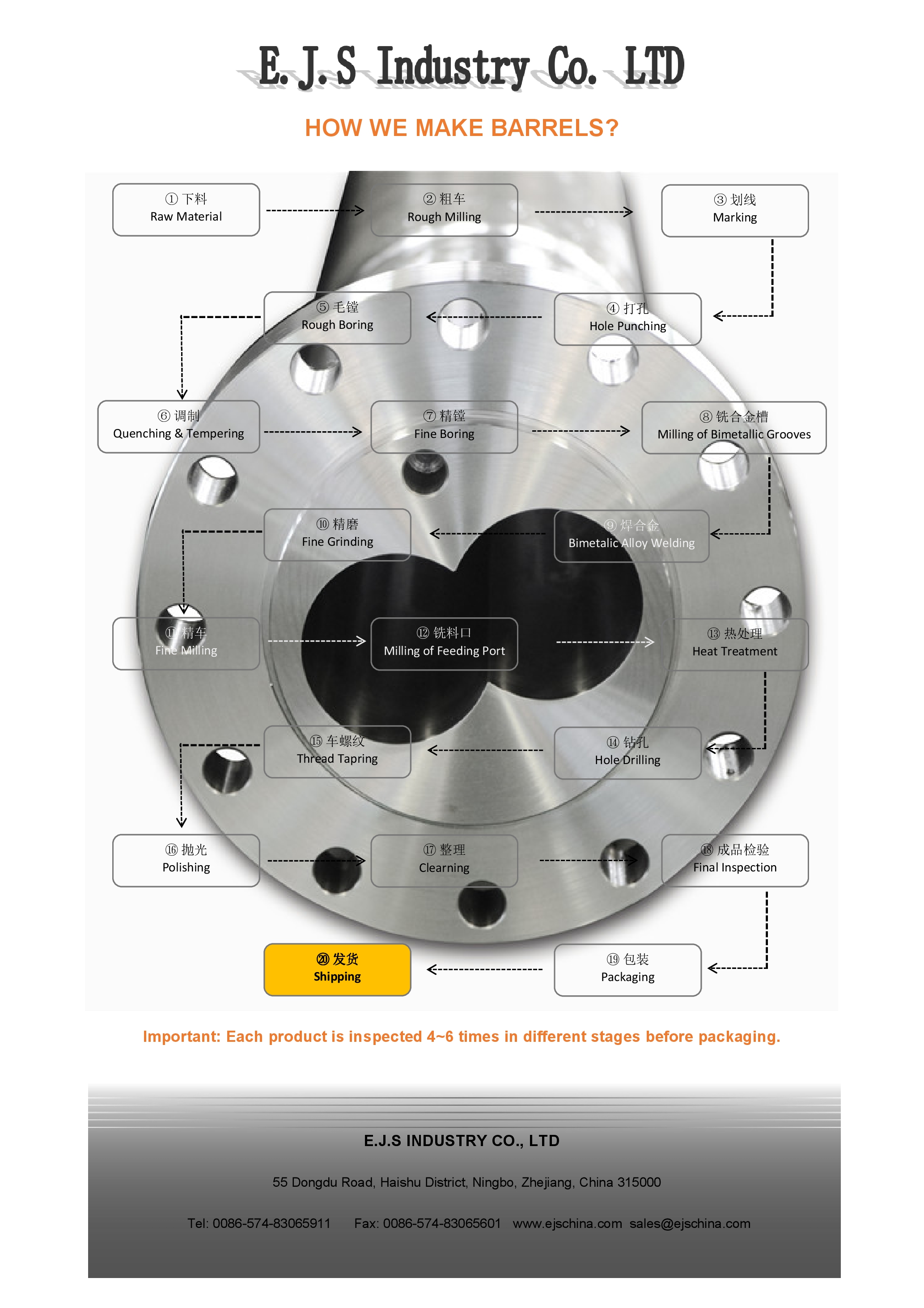 Getting together is a beginning, here come some frequently asked questions from our customer:
Who is EJS?
EJS is a newly created brand name for Export business in 2012.
As a professional manufacturer of screws & barrels since 1992, we have no LOGO for international markets until EJS was born, which is our mission to make customers importing wor
k
Easy, Joy
with a bigger
Success
.
How can we find EJS?
You can easily find us by:
Email:
sales@ejschina.com
WhatsApp:
0086
-
137
-
3615
-
8017
Skype:
ejsscrew
Export Office Line:
0086-574-8306
-5911
Mobile:
0086
-
137
-
3615
-8017
You're very welcome to visit us at:
Export Office:
Hualian Building, 55 Dongdu Road, Haishu District, Ningbo, Zhejiang, China
Factory address:
Xihou Industry Zone, Jintang Town, Zhoushan, China
Also you can meet us face to face at our exhibition booth worldwide.
What will EJS do if a product breaks down within the warranty?
We'd provide a free replacement when the customer takes care of the transportation cost, as long as a formal non-conforming report was received.
Where are EJS screw barrels sold to?
Since 1992, our screw barrels have been widely sold nationally and internationally, for example Italy, Spain, Germany, UK, USA, Chile, Japan, India and a lot of other countries.
How can EJS help me when I need to order other goods instead of screw barrels?
We're very willing to help customers outsourcing other goods for our customers, from factories selection, price checking, lead-time controlling, quality inspection, till shipment arrangement, to make their work
Easy, Joy
with a big
Success
.
How long can you complete production of 5 sets of Plastic Panel extruder twin screw barrel, I really need them fast?
Usually 35 days are needed for production after drawing confirmation. If your size is standard, such as 55/110, 65/132, 80/156 twin conical screw barrel, we're capable to shorten to 20 days when the time fits perfectly.
Haste makes waste, it's better to leave more time to production people, because quality is the key. We will help you to save time on other areas, such as drawing preparation, logistics---each day counts!
We
'
re looking for an extruder to produce T-die, can you supply us P
lastic profile extruder twin screw barrel 
as well as the whole extruder?
EJS is a professional manufacturer of screw barrels, some customers are machine builder of Plastic profile extruder, we can surely help you to make your whole work easier with job and success!
We always buy PVC pipe extruder twin screw barrel
 locally, it
's easy and fast. Why should I buy from China?
There are many advantages to buy from China, this will enrich your experiences, enlarge your vision, decrease your cost, expand your knowledge. Get started, don't get missed!