iPLAST, held in Milan every three years, is one of the most important exhibitions for plastics and rubber industry worldwide.
September 05~ 08, is the date!
Hall 11, booth D96, is the place for EJS!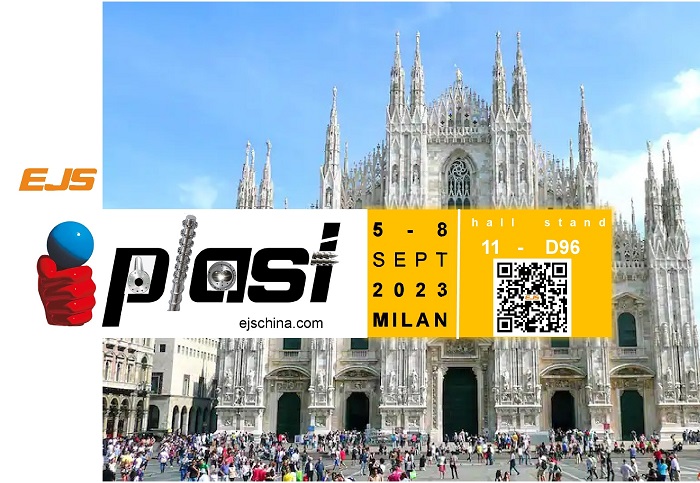 Last show was in 2018 due to COVID-19, it's been a LONG time that we haven't been there, so that many people are so eager to be together again.
At iPlast, you will see anything and everything about Plastics and Rubber, from design to testing, from materials to machines, from parts to projects including:
Injection moulding, extrusion, blow moulding, thermoforming and welding machines
Machines for foam, reactive and reinforced resins
Molds and dies, laboratory control and test equipment, ancillary equipment for plastics and rubber processing, additive manufacturing, rapid prototyping, synthesizing, modelling softwares
Machines for secondary processing, finishing, decorating, marking and plastics packaging, as downstream equipment
Machines and equipment for the plastics and rubber recovery and recycling
Raw materials, acrylics, polyamides, polyolefinics, styrenes, vinylics, thermoplastic polyesters, thermosets, fluoropolymers, elastomers, pigments, colourants, masterbatches, fillers, reinforcements, additives, process auxiliaries and other plastics
Secondary and regenerated raw materials, RPET RPE, RPP, AB R, RPVC, regenerated elastomers, composites, plastic and rubber alloys and other materials
Semi-finished and finished products, household, electrical, electronic, industrial and agricultural applications and other plastics and rubber applications and processes
Product design, manufacturing and reconstruction services and other services for the plastics and rubber industry.
EJS screw barrel is so humble that they usually hide themselves in the belly of extruder machines or injection molding machines----come to Hall 11 D96 booth to see them closer and better!