EJS is a manufacturer of screw barrels in China, specializing in the production of screw barrels for extrusion machines, injection molding machines and blow modling machines. .
We produce
•Singles, with diameter 14 - 500 mm
•Twin Parallels, with diameter 20 - 250 mm
•Twin Conicals, with diameter 30/70 - 188/330 mm
•Customized Parts like screw tips, bushers, feed rolls
Quality is our middle name.
Busy is our last time.
If you want something done right, give the job to the busy person.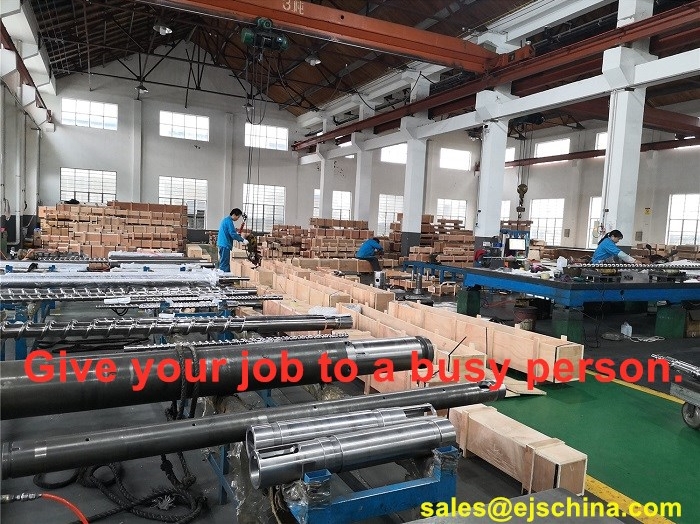 Naturally we believe the busy people have better quality, that's the RIGHT reason they keep receiving bigger and more orders from customers.
When the quality of a factory is superior, more customers will give their orders to them. When the capacity is fully running, longer lead time is needed respectively, which means the buyers have to wait a bit longer than normal.
Our products are machine parts, few extra weeks of waiting will pay it off. We better wait to have good quality instead of rushing out with inferior products.
If you agree with us on this point, we could work together for now and for ever.

This same thing works for our life. When we go to a restaurant, we look at how busy they are, we will choose the busy restaurants, we believe they do better not only because of their quality but also more fresh food.


General Working Procedures for EJS customers

EJS highly values every customer and handles every business carefully and seriously.
To avoid any possible misunderstanding or confusions, hereby we're showing how we are doing our daily job from now and then, which we hope to be improved from time to time.

1. After reception of customer inquiry:
EJS checks the feasibility of production, including material, dimensions, tolerances, surface treatment etc.;

EJS makes the price quote, including unit cost, shipping terms, lead-time, price validity, warranty etc.
After reception of the official order

 from the customer

:
EJS prepares

 the invoice for the down

-

payment

(Commercial Invoice or Proforma Invoice), with lead-time, bank information included;

Customer

proceed

s

the payment

 and sends the

 

payment

proof

;
After reception of down-payment:
EJS starts to prepare production drawings for workshops against customer drawings;

EJS sends the drawing to customers for confirmation;
After confirmation of drawings:
EJS starts production of the order.
Before shipping:
EJS informs the customer about the production status frequently;

EJS completes the production and quality inspection;

EJS sends in Packing List, Material Report, Treatment Report, Product Photos, Inspection Report;

EJS sends in prepaid transportation cost for comparison(if requested);

EJS sends in (revised) invoice for balance payment;

Customer

proceed

s

the payment

 and sends the

 

payment

proof

;

Customer provides forwarder information and document request.
After reception of balance payment:
EJS arranges the transportation as agreed/requested;

EJS sends the shipping documents for customs, including airway bill, packing list, commercial invoice.
After reception of the goods
Customer does the quality inspection and provides feedback;

EJS takes corrective actions in case an issue occurs.
 
If anything is unclear, please contact your sales representative for clarification;
If anything is different from what you're doing now, please feel free to contact us, we're open for discussion.
Thank you.